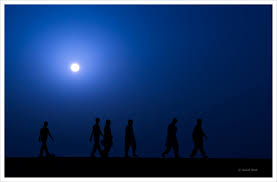 On 21st May 2016 Sarah Hawkins organised a fund raising event, The Moonlight Lantern Walk. The walk started in Padstow and finished in Hawker's Cover which is a distance of 5 miles. All walkers gathered for a start time of 10pm, as the name suggests it's a night time event.
With her usual enthusiasm she arranged the advertising, street side sales of battery lights and some refreshments. Arrangements were made for the Boscastle Buoys to come along and entertain the participants and onlookers with their traditional and shanty singing.
The event raised £700 for KD-UK and also raised plenty of awareness of the disease too.
Sarah is hoping to make this an annual event helping to finance the cause.  If you'd like to find out further information about this event or if you wish to help out at next year's event, please contact Sarah on 07980 327 939, info@strandhousepadstow.co.uk or kate@kd-uk.com