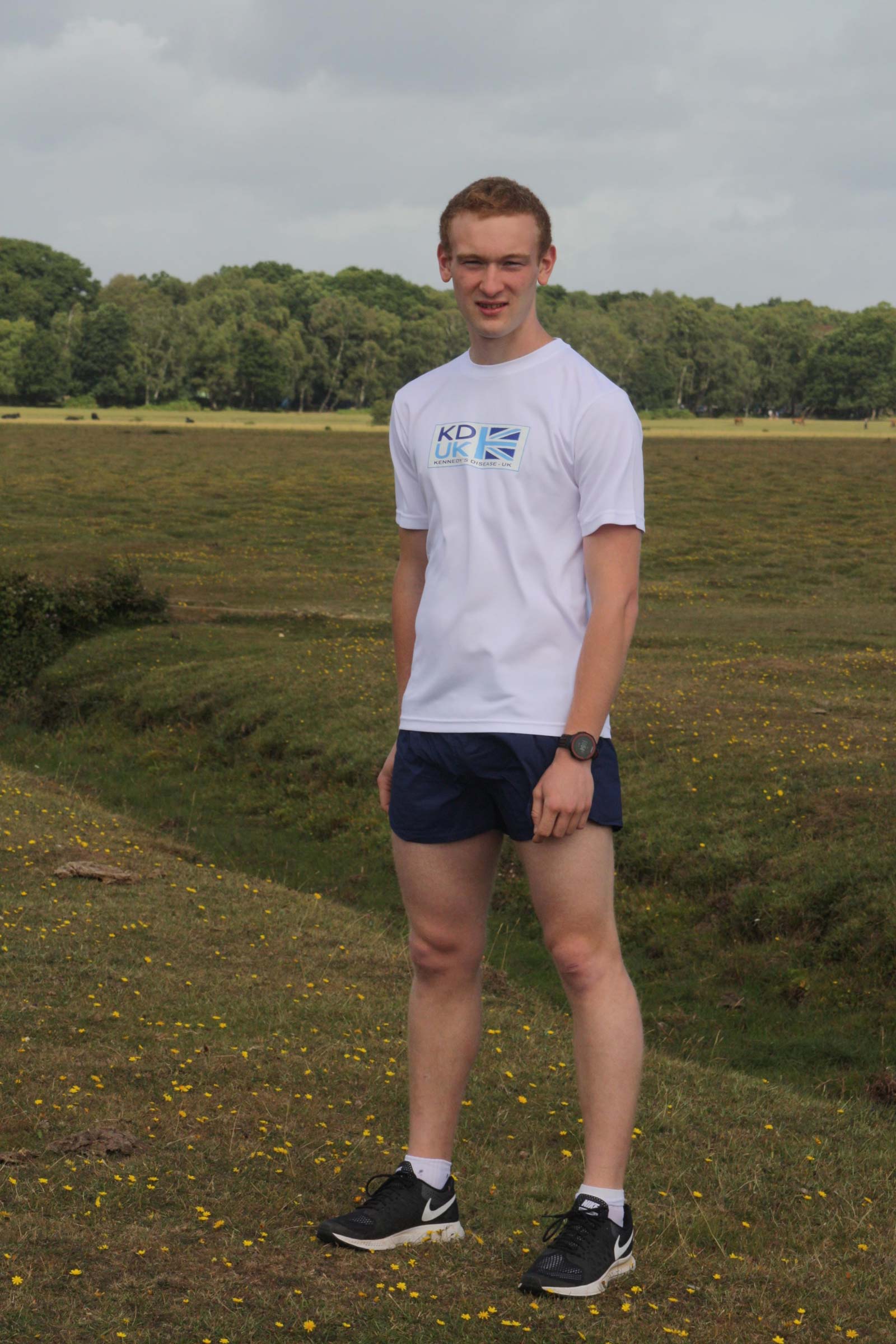 My name is Tom Stroud and in September I will be running the New Forest Marathon to raise funds for Kennedy's Disease UK.
I was five years old when my Mother Pat explained to me that my Father had a 'bad back' and would not be able to lift me up on his shoulders any more. For months after this I continuously asked Mum when Dad would be able to play football with me again, for which she had no reply. One day soon after this, as hard as it must have been to talk to a five-year-old about, she described to me how my Father would not be getting better for the foreseeable future.
Throughout my short life I have lived in hope: hope that there would be someone somewhere developing a cure for Kennedy's disease; hope that one-day people will be aware of my Dad's disease and understand the struggles that families go through caring for those affected; hope that future generations of my family with Kennedy's will not have to live a life of hardship and pain.
Caring for my Dad has become part of my life ever since I was young. From holding his arm while he walks to now pushing him in the wheelchair, I don't think twice about it – for I have never known any different. Basic tasks such as getting up from chairs and general lifting have become problematic for my Father and I now help him with this and more on a daily basis.
Caring is not just a matter of helping with physical tasks, an awful amount of emotional strain is cast upon families with Kennedy's. Is a sufferer merely supposed to accept that he can no longer do the things he once had been able to do without any emotional distress and anguish? Growing up with my Dad has been a challenge: a challenge not just with the physical impairments he suffers with but a challenge coping with the realities of his illness and the emotional stress it has caused.
While I have been studying medicine at university, the lack of awareness for Kennedy's disease has become most apparent to me. With senior doctors and academics not knowing a thing about the disease it has dawned on me that something must be done. The work that has been done by Kate and her family to set up Kennedy's disease UK – the first UK based Kennedy's disease charity – has been outstanding and even now in the early years of the charity's foundation, a lot more people are aware of this devastating illness.
A challenge which I have set myself is to complete a full marathon to raise funds and awareness for KD-UK. I hope that on my completion of this challenge more people will have an idea about what Kennedy's is, and by raising money, I hope to support this amazing charity as best as I can so that it continues to prosper and grow.
Training for a marathon may sound very taxing and arduous, but I assure you that when I think to myself "why am I putting my body through this?!" I remember that I am doing it for all the sufferers and families who have to live with this awful disease and this could motivate me to complete 10 marathons (maybe one for the future!). Currently, I am running around 40 miles per week and will increase this as I get closer to the event. The support I have had with my fundraising so far as been incredible and I would like to thank all those who have donated. Together, we will win this battle.