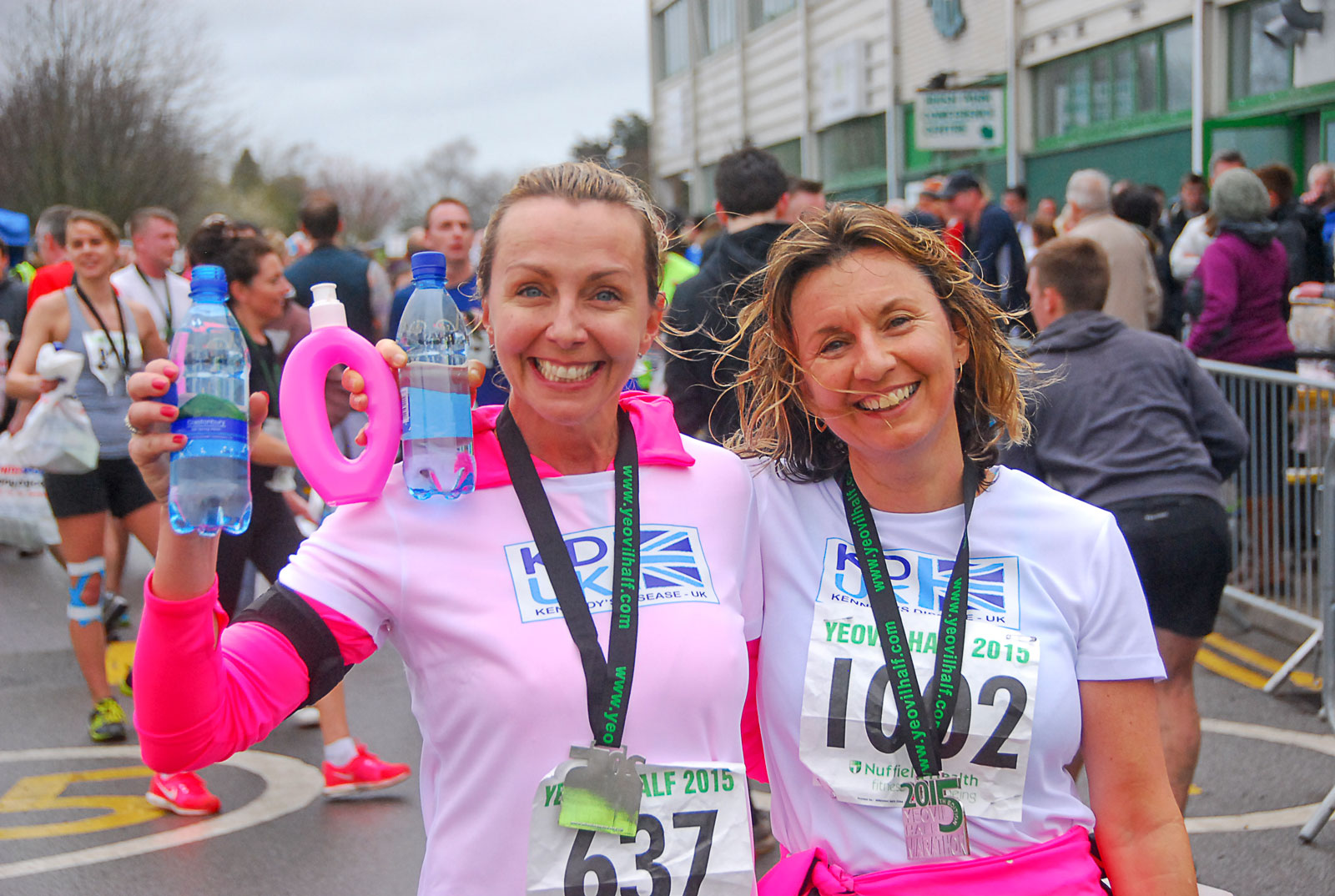 Even driving winds and rain can't dampen Lou and Kate's joy at raising new funds for KD-UK.
One month before Yeovil half marathon I casually asked Kate, my sister and chairman of KD-UK, "Are you doing the half?"
"I haven't really put the training in Lou," she replied, "but I guess if it's a lovely sunny day, yes, I'll do it!" "Well I definitely haven't put the training in," I said, "so it's probably a no from me."
One month later, on Sunday 29th March – the first day of spring – there we were at the start line… in 45 mile an hour winds and horizontal, torrential rain! To say the weather made running conditions a hindrance is a bit of an understatement. My presiding memory of the day is of literally having to bend at right angles from the hip as we ran across Westland's air field at around the nine-mile mark.
Despite the weather, the gruesome Hendon Hill (a kilometre climb up a really steep gradient) and lack of training, the crowds were amazing and certainly helped us battle the elements. Running in our KD-UK tops and hearing 'Go KD-UK!' all along the route was definitely a key factor in helping us get home.
As with any long run, the last couple of miles were painful and frustrating, and we just wanted it to be over. But the frustration we briefly experienced is nothing compared to what many KD sufferers endure on a daily basis. It was an honour for me to be able to run and raise some much needed money to help fund new research into the disease to both aid current sufferers and to prevent it from affecting future generations.
Kate and I both completed the half marathon in less than two 2 hours, beating our previous time of 2 hours 1 minute, so needless to say, we were very pleased – and very happy to get home and soak in a hot bath!
A massive thank you to everyone who donated. It means so much to us. Some people have asked for the link again, so here it is.