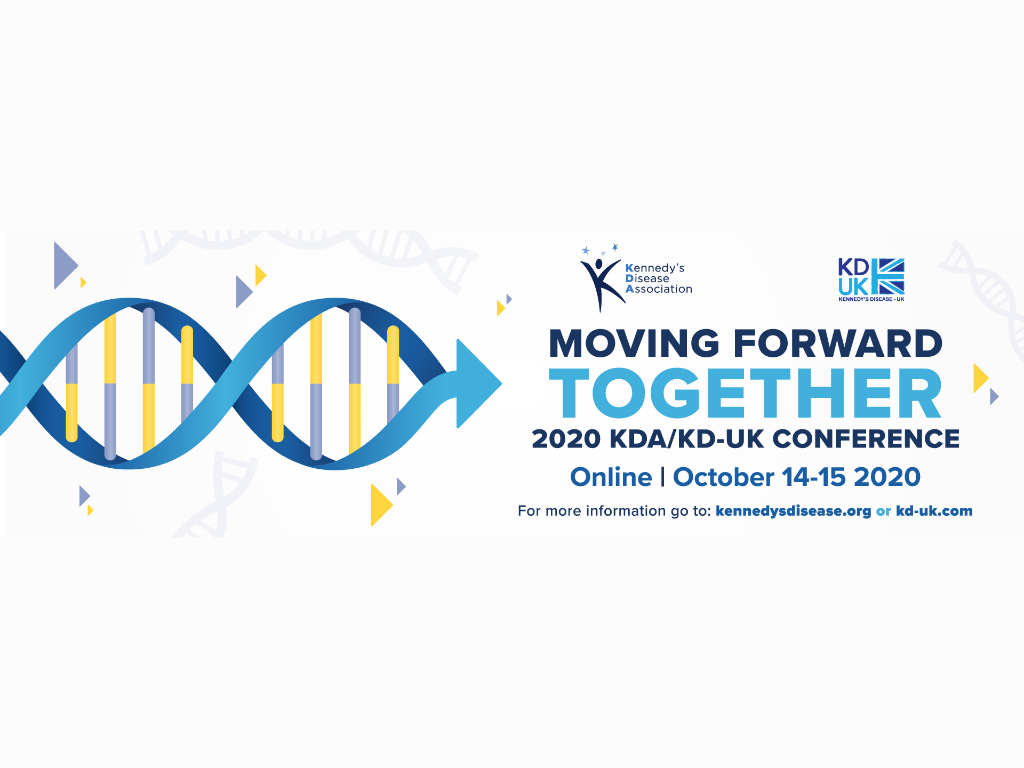 2020 KDA/KD-UK Conference
We're delighted to announce that 'Moving Forward Together – 2020 KDA/KD-UK Conference' will be held from Wednesday, October 14, at 10:00am EDT to Thursday, October 15, 2020 at 2:00pm EDT. As with most events this year, it will be an online event.
The event will support both organisations' goals to find a cure for and improve the lives of those living with Kennedy's Disease. This will be the first joint event between KD-UK and KDA and the first Kennedy's Disease conference held entirely online.
The conference will run for four hours each day:
Wednesday will feature patient-focused talks designed to increase our understanding of KD and provide concrete strategies for living with it.
Thursday will be devoted to research, emphasizing those efforts that may soon be ready to move from the lab to clinical trials.
A detailed agenda and more specific instructions will be available shortly and will be included in future announcements and emails sent to all registrants.
For all KD Men
The Kennedy's Disease Clinic at University College London is conducting a survey to find out which symptoms you feel deserve more research and focus. Whether you will be attending the conference or not, we invite all of you to complete the survey here. The results will be presented at the conference on 14 October.
For U.S./KDA Participants
When registering you will have the opportunity to sign up for breakout sessions (men's, spouses/partners, carriers) on the afternoon of Wednesday, 14 Oct.
Pay what you can
In lieu of a registration fee, we invite you to make a donation in whatever amount you can afford. This has been a difficult year for charities, ours included. Your donation will help us continue research into Kennedy's Disease and bring us that much closer to a cure.
For more information and to join us for this special event, please click the Register Now button below. 
And when entering your email address, keep in mind that this is the one we will use to invite you to the Zoom session.
We look forward to your participation and thank you for your support of the KDA and KD/UK.